---
Discover the difference!
---
Discover the Cape –
Private Tours creating an unique adventure
Welcome to Sustainable Africa private tours, a one-man company offering private and exclusive tours in the Cape.

I am a certified tour guide for the Western Cape since 2009 and I want to show you our fascinating landscape. All prescribed licences and accreditations for public transportation are in place!
Each tour can be tailor-made according to your wishes and interests. I will gladly assist in compiling an exclusive design of the tour.
The Cape region is one of the world's most popular tourism destinations with stunning landscapes and a rich variety of people.
A melting pot of different cultures and life concepts makes Cape Town a vibrant holiday destination. The aboriginal inhabitants, the Khoi and the San, called this place "Camissa" which means "place of sweet water".
The history of the city blends African, Asian and European culture, as well as Christianity and Islam.
The surrounding area is characterized by viticulture. You cannot escape culinary delights at such a place.
Particularly fascinating are the diverse flora and fauna of the Cape region.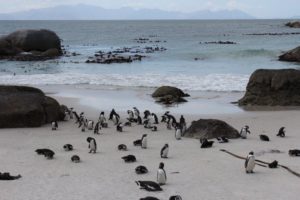 In the course of the history of the earth, a separate floral region, the Cape Floral Kingdom has developed. It is the smallest of six worldwide floral regions.
It is unique in many ways and has developed an extraordinarily high diversity of distinctive flora. There are about 8500 plant species, some endemic. Characteristic of the landscape is the fynbos.
The Protea is the national flower of South Africa. It is a shrub that is even fire resistant by a thick bark.
Contact:
denis@sustainableafrica.co.za or
Mobile/Whatsapp +27 (0)72 3078520 or
---
Recent blog posts
See you in 2022
Another extraordinary year in tourism comes to an end. Have a peaceful festive season and a glorious New Year full of
Read more »
Thrill on 28th floor
A must for adrenaline lovers: The Sky Hi Ride on the 28th floor of Hotel Sky, towering 35 meters above the
Read more »